Why Install Refrigeration Covers On Your Refrigerated Display Cabinets?
Retailers Specify Refrigeration Covers For A Variety Of Reasons…
With Refrigeration Covers, your expenditure on energy will become minimum as Supermarket Refrigeration Covers will reduce refrigeration need during night time and close hours. The investment on Refrigeration Covers will give more in return as they will improve life and functionality of your display cases. Also, the shelf life of stored goods will be increased.
Covering display cases stabilizes the internal temperature and keeps it cool up to 15 hours after the covers are rolled up. Refrigeration Covers prevent the displays from coming into contact with hot air that have an adverse effect on display cases.
Advantage of Supermarket Refrigeration Covers is that they allow refrigerated cabinets to maintain optimal temperature and humidity throughout the night leading to increased efficiency of refrigeration units.
With Refrigeration Covers, you can reduce store losses like drying and wilting of products to nothing in a short time.
Refrigeration Covers For Freezer / Island End Caps
Saving Product In Open Freezer Cases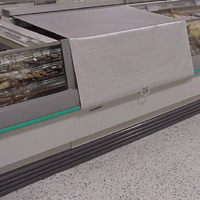 Island freezers are capable of keeping the cold air within the cabinets but they need Refrigeration Covers to prevent the forced hot air from entering the cabinets. Cold air settles down making room for hot air to enter from the above.
Supermarket Refrigeration Covers insulate refrigerated display cases from the room temperature that can spoil the sensitive food items and grocery products. It is only with Refrigeration Covers, that you can prevent your climate sensitive goods from getting spoiled during night
OEM's Bringing Solutions To Market
Ask Your OEM About Installing Refrigeration Covers On Your Cases
Refrigerated display cases are designed for retailing climate sensitive products but they increase energy consumption. With Supermarket Refrigeration Covers, retailers and food vendors can at least reduce the energy demand during night time and close hours. Covering cooling displays could energy demand considerably and save hundreds of dollars in monthly energy bills.
Supermarket Refrigeration Covers are used by refrigerated display cabinet makers that use Refrigeration Covers as standard or optimal features in their designs. Also, these covers are available in custom designs to suit individual needs.
Visit our website or contact our office for more information on Refrigeration Covers and custom designs.
Call toll free in North America at 1-800-519-1222 or you may reach us at (250) 743-1222.
Take Action Now!
Of Interest